My friend's daughter was turning three. So I just had to make her something! I spent no less than an hour trying to find the perfect font for my "c". After spending most of my time online trying to find new and exciting fonts, I just settle for one very simple, basic font that was already on my computer,Arial Black. I enlarged it to 500 pt (I think that's what it's called) and used the lower case "c", and voila done! I fused the "c" to the shirt using Steam-A-Seam 2 Fusible Fabric Iron On, and then used a basic zig-zag stitch to secure it to the shirt.
Since my friend's little girl was turning 3, I used one of my daughter's old 3T skirts and measured the waist and the length. Then I added an inch to each measurement to allow for seams. I cut out my rectangle. Because I was doing an elastic waist and was wanting it to flare...this is ALL WRONG! I needed to add a few inches onto the waist.
In the end, the skirt was way too big in the waist, and fit alright in the legs; however, for a 3 year old, she really needed to have more room to be able to be a kid! So this week, I'm re-making her a skirt. I'll try to take pictures along the way to share. :)
I also made her a crochet flower clip for her hair. There is a great video tutorial on how to make a crochet flower
here
. The smaller one is using double crochet and the larger one is using triple crochet. I got a tube of buttons from Hobby Lobby and found this little pearl one that worked just perfect!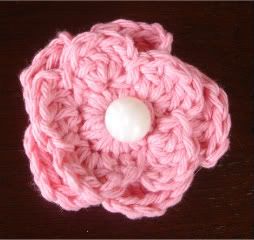 And here's the little princess wearing her new outfit.