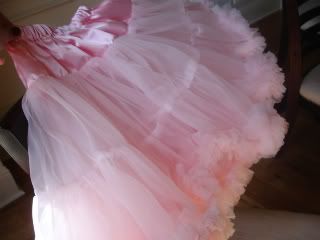 This is what took me 5 days to make. I read somewhere online that a lady said it took her 4 hours. I guess if I had a ruffler foot, it might take me 4 hours, but from where I sit, I think that lady is nutso! HA!
So this is what you'll need/I used:
5 yards of 108" nylon chiffon (the 108", I got from Fabric.com)
1 yard of silk charmuese
2 yards of fusing
2 spools of thread (I have never used 1 entire spool of thread....until this project and I went through 1-1/2)
3/4" elastic for waist
Made my life easier:
rotary cutter
Quilting Slot Ruler
1) Cut all your pieces of fabric.
A)The top tier is the satin charmuese. For this, you need to measure the waist...then double it. That's the width. I did the length at 10-1/2". This will be the drop waist. It will be folded over in half. You may elect to go shorter or longer. Bottom line, cut a piece of fabric that is (waist * 2) x (your desired drop length + 1/4 seam allowance) * 2).***The silk charmeuse frays extremely bad, iron a strip of 2" interfacing to the inside of the silk to prevent fraying (follow instructions on the packaging****
B)You will need 12 strips of 6-7" x 108" (the width of the fabric). If you're using the rotary cutter and ruler, fold over multiple times and you will cut your time!
C) For the "fluff" (the ruffle at the bottom), cut strips of 2.5"...cut most of the fabric that you have left. I used most of the 5 yards I had.
2) Organize your fabric
It's best to keep everything organize because it's a lot of fabric and easy to get everything mixed up. There are 3 tiers to this skirt (not including the "fluff" at the bottom) and two layers (Inner and Outer). The bottom 2 tiers (labeled top and bottom) are made from the chiffon. This is what you need the 12 strips:
Inner Top- 2 strips
Outer Top- 2 strips
Inner Bottom- 4 strips
Outer Bottom-4strips
3) Sew together end to end the Inner Bottom strips
. Then repeat for the outer bottom strips. (But do not sew to make a circle). Just make 2 VERY, VERY, VERY long pieces.
4) Make "fluff"
. This is where that 2.5" strips come along. And it's so much fun. If you have a ruffler foot, use that. I don't own one, and I'm not quite sure how to use one, so I didn't want to start this process trying to learn a new process. I used my machine to gather everything. I did a straight stitch at the longest stitch setting with the highest tension. This gathered it quite nicely.
5) Attach fluff to bottom tiers (inner and outer). ***(Remember to adjust the stitch length and tension)***
I orginally attached it all with pins first and then sewed it all together. But I found on the outer layer, it was easier (and less time consuming) to just sew it without worrying about pining it together. The layer I did with pins, I had to go through and sew a few spots again, when I didn't pin, I was a little more careful and thus got it all right the first time.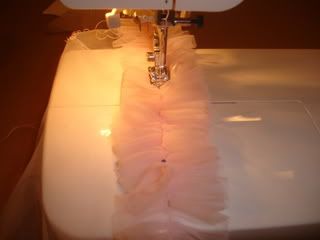 6) Sew together the inner and outer top tiers.
Again, just make to very long strips, not a circle.
7) Gather bottom layers to fit top layer.
For this one, I used just the regular tension setting with the longest straight stitch. Make sure to keep the threads long and don't overstitch. You need to reduced the bottom tiers to fit the top. You may need to gather more or take out some of the gather to fit to the top tier.
8) Sew the bottom layer to the top layer.
Using a standard straight stitch. Again remember, to put it at a regular stitch length. Sew the right sides together.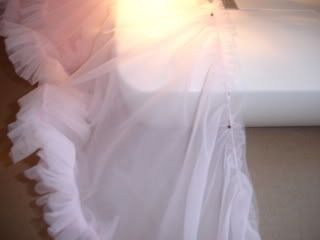 (Again, I learned that pinning isn't a necessity. It's less time consuming to do without pinning.)
9) Gather top tiers (with the bottom attached)
to fit waist. Follow instructions from Step 7.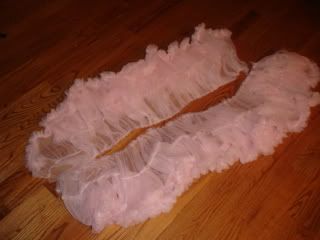 10) Attach the chiffon tiers to silk waist.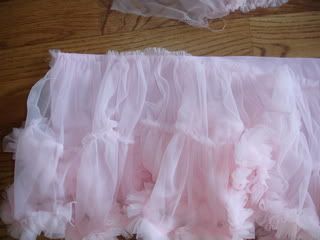 It should look like this when finished: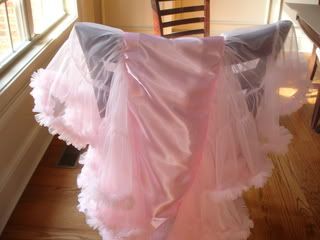 11) Fold the silk charmeuse in half lengthwise.
And sew a 1" casing at the top (Unfortunately, I was impatient at this point and didn't take a picture).
12) Insert the elastic (which is the width of the waist).
13) Sew it shut.
I got to this point, and I realized a bit of an issue. You don't want to sew the top and bottom layers together. So I sewed the waist (the silk charmeuse tier) together. Then I sewed the top layer of chiffon together and then the bottom separately.
TA DA-
Bottom of the skirt

....ruffles galore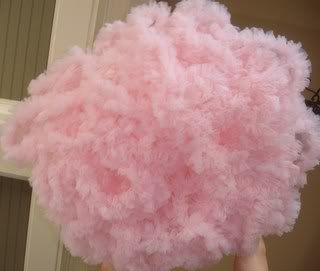 Twirl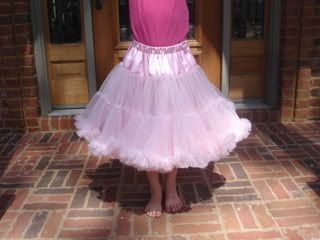 Notes:
*The lengths of the strips can work for any size (kid size, not baby, through adult sizes). You can probably reduce if you're making it for a small child (8 and younger).
* After finishing it, I think I probably could have done the waist width a little smaller (the silk charmeuse strip). Probably could have done it: waist * 50% and been fine. It looks a little too gathered for my taste.
*Also if I were doing it again, I would probably done a 3 or 4" drop waist instead of a 5". And I did 7" for the tiers, but I probably would have been fine at 6".
* Make sure to use NYLON Chiffon.

It doesn't fray. The polyester kind does...like crazy!
* I cannot find any nylon chiffon in any retailers. I ordered mine from Fabric.com. They have the 108". You can find 54" at various online fabric stores. Just double the amount of strips you'll need.



Please send me a note if you have any questions. I'm always glad to help.




Don't know if I'll be making this again any time soon, but I did love the outcome!!!