I've been busy, AKA lazy! I have a few projects that I have worked on. This is a dress I made for a cousin's little girl...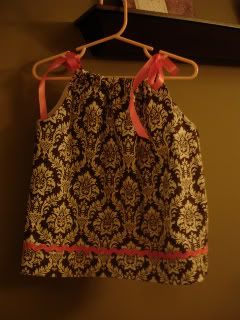 Unfortunately, it's too small, so I have to make another one. I'm starting to see a pattern in my sizing issues. Blah! Maybe one day in my re-making of things, I'll actually stop to take pictures! Hmm...maybe!
Tomorrow, I start on my newest project, a pettiskirt for someone's daughter. My first time, and I must confess, I'm a little overwhelmed. I got my fabric in the mail today! YAY! (You need nylon chiffon, and there is no retailers that I can find that carry it, so it must be ordered).
Anyway, I'm using
these
instructions (3rd reply down).
I'll make sure to take pictures and give you my instructions (since I'm doing it from the bottom up) and any tips I find might be useful. Oh yeah, didn't mention, I don't have a ruffler foot!!! HA! Should be much fun!
Find me in the looney bin on Sunday!
Happy Easter everyone!