Remember when I said we had a bunch of unfinished projects around our house? Well, instead of finishing those, we've decided to start new ones.
Our house is in desperate need of color. We saw a picture of a friend's house that was similar in style and had ice blue walls. It looked great. And their cabinets were close to the same finish as ours.
This was the result: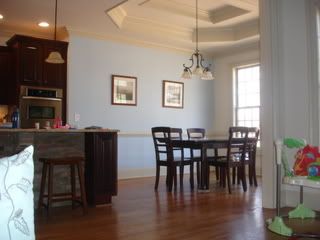 See the color samples on the wall in this one?
So we really didn't like this color! The hubs is at Home Depot getting more paint. I can't take the ice blue for one more minute! He's also getting a dark chocolate for this wall: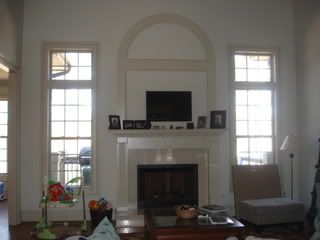 And eventually, the rest of the walls in the living room will be a few shades lighter (we have to hire someone for those...someone with scaffolding).
Our house is in some serious need of color. And some decor!!!! Eventually, I'll get to curtains. We just got a rug last week. Slowly but surely, we're making this house a home!
Stay tune with final results!
PS...I need some decor help with this mantel. I HATE that we have our tv up there, but it's the only place in the living room for it. Someone please send me some ideas...pictures...ANYTHING!